Taking care of your children requires a lot of dedication, and there are not enough hours in a single day to do everything. It would be awesome if that was the case, but doing it alone is hard. Sometimes, there is no other choice but seeking help outside the family. While relatives or friends can work, it's not always an option. A great idea would be to send your child to a daycare center. There are different benefits for working families and single parents alike. Today's blog will discuss the positives of hiring a Cobble Hill Daycare center for your children.
The Benefits of Finding a Cobble Hill Daycare Center
First of all, we have a regular schedule and do fun activities all the time. Our daily plan includes songs, storytelling, all sorts of games, eating, learning new skills, and so on.
The kids will learn something new every day. Young children are great at soaking information. The sooner they start learning – the better. At Daycare Carroll Gardens Brooklyn and Daycare Cobble Hill, we offer different opportunities for learning such as language classes, geography lessons, number games, colorful drawing, activities with basic concepts, and more.
The children will also spend valuable time with their peers. It is a great way to develop social skills and learn how to communicate. Daycare interactions are great at teaching children the importance of working as a team and respecting each other.
At our Cobble Hill Daycare center, the children will also interact with adults. By doing this, they will learn proper manners.
One specific benefit of childcare centers would be the transition into kindergarten and later on, school. It is all about the right preparation. Children who have been in a daycare center will find it easier to adjust to a school environment.
Parents will be able to focus on their job responsibilities. Dropping your child at a new Cobble Hill Daycare center might feel a bit frustrating at first, but it will be worth it. It is a win=win situation. You will be able to focus on your job while your child will have a great time playing with peers. As soon as the sun starts setting down, you will pass for a quick pick up. Be sure to find a center near you if you want to reduce travel times and spend more hours with your child.
New Playground Daycare is the Right Choice for the Job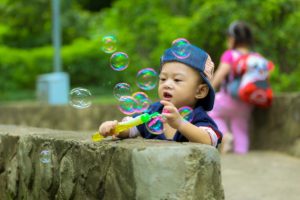 Our daycare center has a simple philosophy: we give the children the same attention and care here, as we do at our homes. The goal is creating a fun and friendly environment which provides opportunities for both learning and playing. Every day will be full of excitement! The children will find themselves amongst new friends! Our daycare center has a unique curriculum which encourages them to explore on their own and discover new things every day. We have both Cobble Hill daycare and daycare Carroll Gardens Brooklyn services. Feel free to contact us if you have any further questions.